CLICK TO CALL

MAP IT
Meet Dr. Carrie Hui, DDS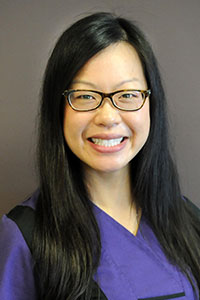 Dr. Carrie Hui graduated from the Faculty of Dentistry, University of Toronto after completing her Bachelor of Health Sciences from McMaster University. She is an active member of the Ontario Dental Association as a General Councillor, the President of the Toronto Central Dental Society and a member of the Academy of General Dentistry.
Dr. Carrie is committed to the care and well-being of her patients and understands that providing good comprehensive care to her patients is the bottom line. She is excited about how dentistry is constantly changing and evolving as new techniques and technologies are developed. As such, even though Dr. Carrie has completed her formal education, she is committed to lifelong learning and continues to participate in continuing education to further her clinical skills. She stays on top of advancing technology to ensure that her patients are offered sound advice, expert care and skilled treatment in both a caring and comfortable environment. She looks forward to working together with you and your family to achieve a healthy and sustainable life-long smile!
Dr. Carrie is committed to contributing to the society! She recently returned from her third dental mission trip to Haiti, where she lead a group of dentists, dental hygienists and assistants among other volunteers to provide dental care to remote towns in the mountains around Port-au-Prince.
Apart from dentistry, you will find Dr. Carrie doing yoga, at the gym, cycling or on the roads training for the next half or full marathon. She is currently training for her 18th half marathon! She is happily married and resides in Toronto with her husband.  She welcomed a baby daughter in November 2016 who keeps her very busy outside of the office.
Meet Dr. Elaine Li, DDS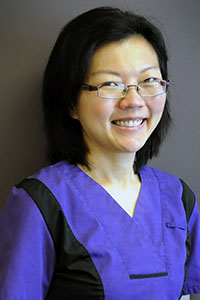 Dr. Elaine Li graduated from the University of Toronto, Faculty of Dentistry. Prior to that, she completed a Master of Science degree in Immunology. She enjoys all areas of general dentistry and is committed to provide comprehensive patient-centered oral health care. She believes that patient education is the key to achieving optimal oral health, and that prevention is the best medicine. Dr. Li constantly furthers her skills and knowledge by taking part in continuing education. She has training in Invisalign, Lumineers, Oral sedation, Temporal Mandibular Disorders (TMD) and sleep apnea oral appliances. She is excited to meet with you and your family to share her knowledge, and to work with you towards your oral health goals.
Outside of work, Dr. Li enjoys spending time with family, going outdoors, playing sports, cooking and reading.


Meet Dr. Mark Cicci
Dr.  Mark Cicci attended The University of Toronto for his undergraduate studies and went on to graduate from The Faculty of Dentistry with honours in 1992.  He has been practicing dentistry for over 20 years with a focus on restorative, endodontic and oral surgery procedures. 
Dr. Cicci is passionate about providing the highest quality of dentistry.  He spent time in Ecuador providing services to communities with minimum access to dental care. This experience lead him to have a special interest in oral surgery procedures including; simple extractions, impacted/erupted wisdom teeth extractions, full mouth clearances for partial/complete and/or implant supported prosthesis.  Having this service available to existing and new patients and their families is important to our entire team as it provides a familiar environment and eliminates out of town or out of office referrals.  He also attended the University of Southern California and received his certification for IV Sedation.
In his free time, Mark likes to travel and explore new places, golf with friends, and spend quality time with his family.